Christou Joins Md. Delegation to European Offshore Wind Energy Conference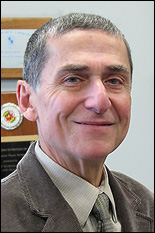 Professor Aris Christou will join the State of Maryland delegation to the European Wind Energy Association's 2015 Offshore Wind Conference, to be held March 10-12 in Copenhagen, Denmark. Christou will present a paper, which he coauthored with Professor Patrick McCluskey (Department of Mechanical Engineering), on predicting the reliability of and points of failure in wind turbines. EWEA Offshore is the leading worldwide conference in its field.
"Currently more than twenty offshore wind turbine designs are being considered for deployment in high wind marine environments," Christou explains. "However, specific reliability prediction models for them are not yet available. That makes it difficult for developers and investors to evaluate the various technologies and make an informed decision about what to install."
In 2013, Christou and McCluskey received a Maryland Offshore Wind Energy Challenge Grant to assist the State of Maryland in its efforts to develop the technology and deployment strategy for its wind power industry. The Clark School faculty members are particularly focused on the reliability and degradation of interconnected wind turbines, which need to withstand harsh conditions in the open ocean. In November of that year, they were part of a delegation that traveled to Denmark and Germany to study the manufacturing and installation issues faced by those countries' offshore wind developers and industrial suppliers.
Christou and McCluskey have used their expertise in energy, reliability, physics of failure, corrosion, environmentally induced degradation, and wide band gap semiconductor power to create a power predictive tool and definite reliability figures for turbine designs the State of Maryland is considering for implementation.
At EWEA Offshore, Christou will report on the progress the project, and present preliminary results, which are based on surrogate data from five generic wind turbine drive train designs. The model simulates what happens to turbine components over a one-year period under anticipated life cycle loading conditions, as well as under accelerated stress test conditions.
"Our physics of failure approach, coupled with predictive models, will allow the State of Maryland to compare the relative reliabilities of various types of turbines," says Christou. "We also expect our model to help advance the entire industry by influencing the design of new, more robust turbines."
Read the extended abstract of "Grid Interconnected Reliable Offshore Wind Energy Prediction Model." (PDF)
Published March 2, 2015