Daniel Dalgo and Ye Tao Awarded GDF-Suez Chuck Edwards Memorial Fellowships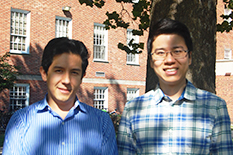 Mechanical Engineering graduate students Daniel Dalgo and Ye Tao received the 2016 GDF-Suez Chuck Edwards Memorial Fellowships. These fellowship supports students performing research in the areas of waste heat utilization in oil and gas industry (gas liquefaction), carbon dioxide sequestration using waste heat, absorption technology for solar cooling applications and waste heat utilization applications, as well as modeling for Small Autonomous Energy System design and optimization and small capacity combined heat and power (CHP) system laboratory performance. The fellowships of $25,000 each help to fund the students' research.
Both Tao and Dalgo are interested in pursuing energy-saving research
Dalgo is passionate about building intelligence technology; "We will live in buildings, so it's important to make sure they are as efficient as they can be," he explains. For his research, entitled Supervisory control and data acquisition for the UMD campus (SCADA-UMD), Dalgo uses VOLTRON, an open source programming language created by Pacific Northwest National Laboratory, to create V-agents in a test building at the University of Maryland to implement dynamic zone setpoint temperature and ventilation rate. The goal of this project is to create system controls and monitoring methods to serve in place of a supervisory control and data acquisition system to reduce the building's HVAC energy use.
Tao plans to use the support from his fellowship to develop a membrane to pass carbon dioxide. The goal of his research, Electrochemical CO2 separation, compression, and reduction, is to create a membrane for carbon dioxide compression and carbon dioxide reduction by electrochemically compressing carbon dioxide with oxygen as a carrier gas. Tao hopes to decrease carbon footprint of fields that produce carbon dioxide emissions by using his membrane for carbon capture and converting the carbon dioxide into methane or ethylene.
Since 2002, Trigen-Cinergy Solutions (Suez) has awarded fellowships at the University of Maryland through a fund created to support energy conversion education and research at the A. James Clark School of Engineering. In 2014, the fellowship was renamed the GDF-Suez Chuck Edwards Memorial Fellowship to honor the memory of Mr. Chuck Edwards, the late general manager at GDF Suez Energy North America and long-time fellowship benefactor.
The fellowship provides financial support to fund students' research and graduate assistant positions. A faculty committee selects students based on academic merit, recommendation and alignment of research goals in the area of energy conversion systems and related technology.
Published October 5, 2016