Energy Start Up Places 3rd in Battery Competition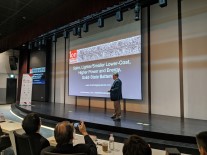 Ion Storage Systems (ISS), an energy start-up company from the University of Maryland (UMD) whose mission is to build safer batteries, was selected as one of seven finalists from 129 applications across 27 countries. ISS competed in the Battery Challenge at the LG Chem Pitch Day and Workshop in Seoul, South Korea from April 8-10. Dr. Eric Wachsman, Chief Exective Officer of ISS and Director of the Maryland Energy Innovation Institute (MEI2) and Dr. Gregory Hitz, Chief Technology Officer of ISS represented the company during the competition.
Each team presented their tech proposals and in-depth business plans and through holistic evaluations, LG Chem selected 5 outstanding finalists (see press release) based on their technology's innovativeness and feasibility for commercialization. Winners will be given the opportunity to nurture their next-level technologies via joint research projects alongside LG Chem and will receive up to $2M in funding through a formal partnership agreement with the company. ISS finished in third place and received an initial $10K.
Ion Storage Systems has developed a lithium metal technology and is commercializing a next generation, non-flammable battery based on lithium garnet ceramic electrolyte. The "Beyond Lithium-Ion" solid-state battery enables lithium metal anodes and is capable of unprecedented specific energy and energy density. No thermal management is required due to a wide operating temperature window and self-limiting internal heating. The cells are composed of low-cost, non-toxic, non-flammable materials and manufactured with industry-established methods. Wachsman noted that the technology offers the ideal anode and electrolyte while acting as a platform for any cathode, from well-established cathodes like LiCoO2 to next generation cathodes like high voltage spinels and sulfur.
Of the competition, Wachsman said, "We were excited to visit LG and discuss our technology with their scientists, Open Innovation team, and senior executives including the President of LG Chem Battery Research, and look forward to the next steps in our joint research project."
Published April 13, 2019