'Founding Father of the Internet' Vint Cerf To Speak Friday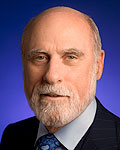 Dr.
Vint Cerf
, Vice President and Chief Internet Evangelist at Google, will speak this Friday, April 17, as part of the
Booz Allen Hamilton Distinguished Colloquium in Electrical and Computer Engineering
. The talk will place in the Main Lecture Hall, Rm. 1110, in the Jeong H. Kim Engineering Building, at 2:00 p.m. Overflow seating will also be available across the hall in the Kay Boardrooms (Rms. 1107 and 1111) with video simulcast of the lecture.
In his talk, titled "Tracking the Internet in the 21st Century," Dr. Cerf will look at some of the current statistics of internet scale, its demographics, and some of the technical drivers that continue to influence the network's evolution. He will discuss some of the issues that arise in considering how to make information accessible for hundreds or even thousands of years, as well as current efforts that are under way to make the Internet operable across the Solar System.
Widely known as one of the "Fathers of the Internet," Cerf is the co-designer of the TCP/IP protocols and the architecture of the Internet. In December 1997, President Clinton presented the U.S. National Medal of Technology to Cerf and his colleague, Robert E. Kahn, for founding and developing the Internet. Kahn and Cerf were named the recipients of the ACM Alan M. Turing award in 2004 for their work on the Internet protocols. The Turing award is sometimes called the "Nobel Prize of Computer Science." In November 2005, President George Bush awarded Cerf and Kahn the Presidential Medal of Freedom for their work. The medal is the highest civilian award given by the United States to its citizens. In April 2008, Cerf and Kahn received the prestigious Japan Prize.
Cerf holds a Bachelor of Science degree in Mathematics from Stanford University and Master of Science and Ph.D. degrees in Computer Science from UCLA. He also holds honorary Doctorate degrees from the Swiss Federal Institute of Technology (ETH), Zurich; Lulea University of Technology, Sweden; University of the Balearic Islands, Palma; Capitol College, Maryland; Gettysburg College, Pennsylvania; George Mason University, Virginia; Rovira i Virgili University, Tarragona, Spain; Rensselaer Polytechnic Institute, Troy, New York; the University of Twente, Enschede, The Netherlands; Brooklyn Polytechnic; Marymount University; the University of Pisa; the Beijing University of Posts and Telecommunications and Tschingua University, Beijing, China.
In his role as vice president and chief Internet evangelist for Google, Dr. Cerf is responsible for identifying new enabling technologies to support the development of advanced, Internet-based products and services from Google. He is also an active public face for Google in the Internet world.
To see video of the Colloquium talk, visit the Google channel on YouTube, or the Clark School of Engineering video site.
To see photos from the Colloquium, please click below:
http://www.ece.umd.edu/News/images/09_04_Vint_Cerf/
Published April 15, 2009