Obama Addresses Climate Meeting at Copenhagen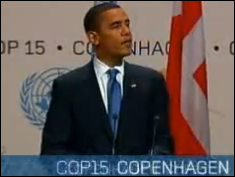 "We are ready to get this done today but there has to be movement on all sides to recognize that it is better for us to act than to talk. Better for us to choose action over inaction; the future over the past. With courage and faith, I believe that we can meet our responsibilities to our people, and to the planet." -President Barack Obama
President Obama addressed the historic climate meeting at Copenhagen on December 18, 2009 with a call for international cooperation and action. He asked the world to put aside the politics of the day and embrace a spirit of cooperation and bold action - for those who need jobs, our families security, and for our children's prosperity, safety, and health that a clean energy future will bring through American leadership. The United States can and should be the cornerstone of these efforts.
In his speech President Obama talked about America's plan to reduce carbon emissions by cutting it 17% by 2020 and 80% by 2050. The goal, he emphasized is the need for a global effect on climate change. He asked nations to put in place mechanisms to review whether or not they are keeping these commitments. Obama said under an international agreement, nations should be willing to share their information, ensuring they maintain their commitments. The success of this effort will depend on helping developing countries so they adapt, especially those least developed and most vulnerable to climate change. He stated America needs fast track funding which involves $10 billion by 2012 and $100 billion by 2020 if it is going to be part of a broader accord.
You can hear the entire speech on YouTube.
Published January 4, 2010