Pecht, Wachsman Named Distinguished University Professors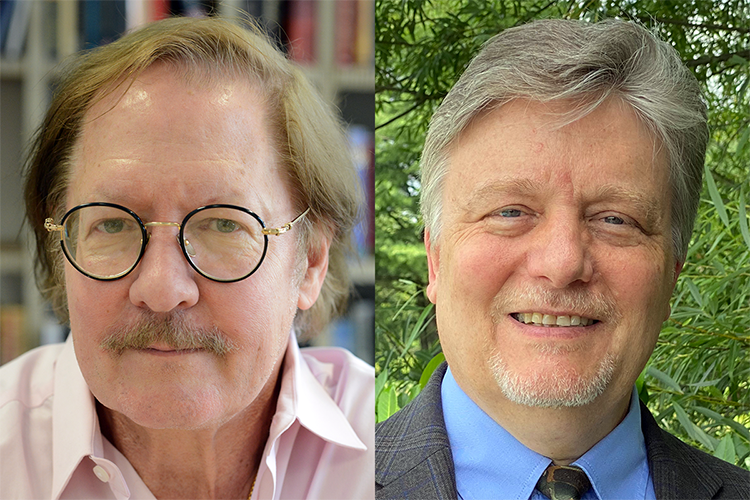 Michael Pecht and Eric Wachsman, both faculty members of the A. James Clark School of Engineering, have been named Distinguished University Professors by the University of Maryland.
The formal title of Distinguished University Professor is the highest appointment bestowed on a tenured faculty member and is accompanied by an annual honorarium to support the awardee's professional activities. Awarded to a limited number of UMD's most accomplished professors each year, the title is a recognition not just of excellence, but of impact and significant contribution to the nominee's field, knowledge, profession, and/or practice.
Michael Pecht
George E. Dieter Professor of Mechanical Engineering
Professor, Department of Applied Mathematics
Director, Center for Advanced Life Cycle Engineering
Pecht is being recognized for his pioneering work in product reliability assessment and supply chain creation and management, among other research interests. He is the founder and director of the Center for Advanced Life Cycle Engineering, a UMD-based research consortium that is funded by more than 150 of the world's leading electronics companies.
Pecht is a Professional Engineer, an IEEE Life Fellow, a PHM Society Life Fellow, an ASME Fellow, an ASM Fellow, an SAE Fellow, and an IMAPS Fellow, and has served as editor-in-chief of IEEE Access, IEEE Transactions on Reliability, Microelectronics Reliability, and Circuit World. He has participated in three U.S. National Academy of Science studies and two U.S. Congressional investigations on automotive safety and as an expert to the U.S. FDA. The author of more than 20 books on product reliability, development, use, and supply chain management, he has also written a series of books on the electronics industry in China, Korea, Japan, and India. In addition, he has written more than 700 technical articles and holds 11 patents. Pecht is the recipient of numerous honors and awards, including the IEEE Components, Packaging, and Manufacturing Award (2015) for visionary leadership in the development of physics-of-failure-based and prognostics-based approaches to electronics reliability, as well as the IEEE Exceptional Technical Achievement Award (2010) for his innovations in the area of prognostics and systems health management. In 2008, he was awarded the highest reliability honor, the IEEE Reliability Society's Lifetime Achievement Award.
Eric Wachsman
William L. Crentz Centennial Chair in Energy Research
Professor, Departments of Materials Science & Engineering and Chemical & Biomolecular
Director, Maryland Energy Innovation Institute
President, Electrochemical Society
Wachsman is being recognized for his research accomplishments in fundamental ionic transport, electrocatalysis, advanced electrochemical energy conversion and batteries, and service and technological leadership to the state of Maryland and UMD. He holds 35 patents in battery and fuel cell technologies and has published more than 280 peer-reviewed papers. In 2014, he was awarded the physical sciences Invention of the Year by the university's Office of Technology Commercialization for his intrinsically safe, low-cost, high-energy, solid-state lithium-ion battery.
Wachsman is director of the Maryland Energy Innovation Institute, signed into law by Governor Larry Hogan in 2017 to catalyze clean energy research programs at academic institutions in the state and attract and develop private investment in clean energy innovation and commercialization. The institute bolsters economic jobs in the clean energy industry sector in Maryland and promotes the deployment of clean energy technology throughout the state.
Wachsman was named President of the Electrochemical Society (ECS) in June 2021. He has been an ECS Fellow since 2008 and is also a Fellow of the American Ceramic Society (2012) and an elected member of the World Academy of Ceramics (2017). He received the 2017 ECS Carl Wagner Award, 2014 Sir William Grove Award (International Association for Hydrogen Energy), 2014 Pfeil Award (Institute of Materials, Minerals & Mining), 2012 Fuel Cell Seminar Award, and 2012 ECS High Temperature Materials Division Outstanding Achievement Award.
Wachsman continues to contribute to the next generation of electrochemists, having graduated 34 Ph.D. and 30 M.S. students, supervised 38 postdocs and research scientists, and mentored several junior faculty members. Additionally, he founded and served as faculty advisor for the ECS student chapters at both the Universities of Florida and Maryland.
Published June 30, 2021