New Report Recommends a Path for the Future of Maryland's Clean Energy Economy
Comprehensive report on the future of clean energy innovation in Maryland delivered today to Governor Hogan
FOR IMMEDIATE RELEASE December 2, 2019
CONTACT:
Catherine Stephens
301 405 9378
csteph5@umd.edu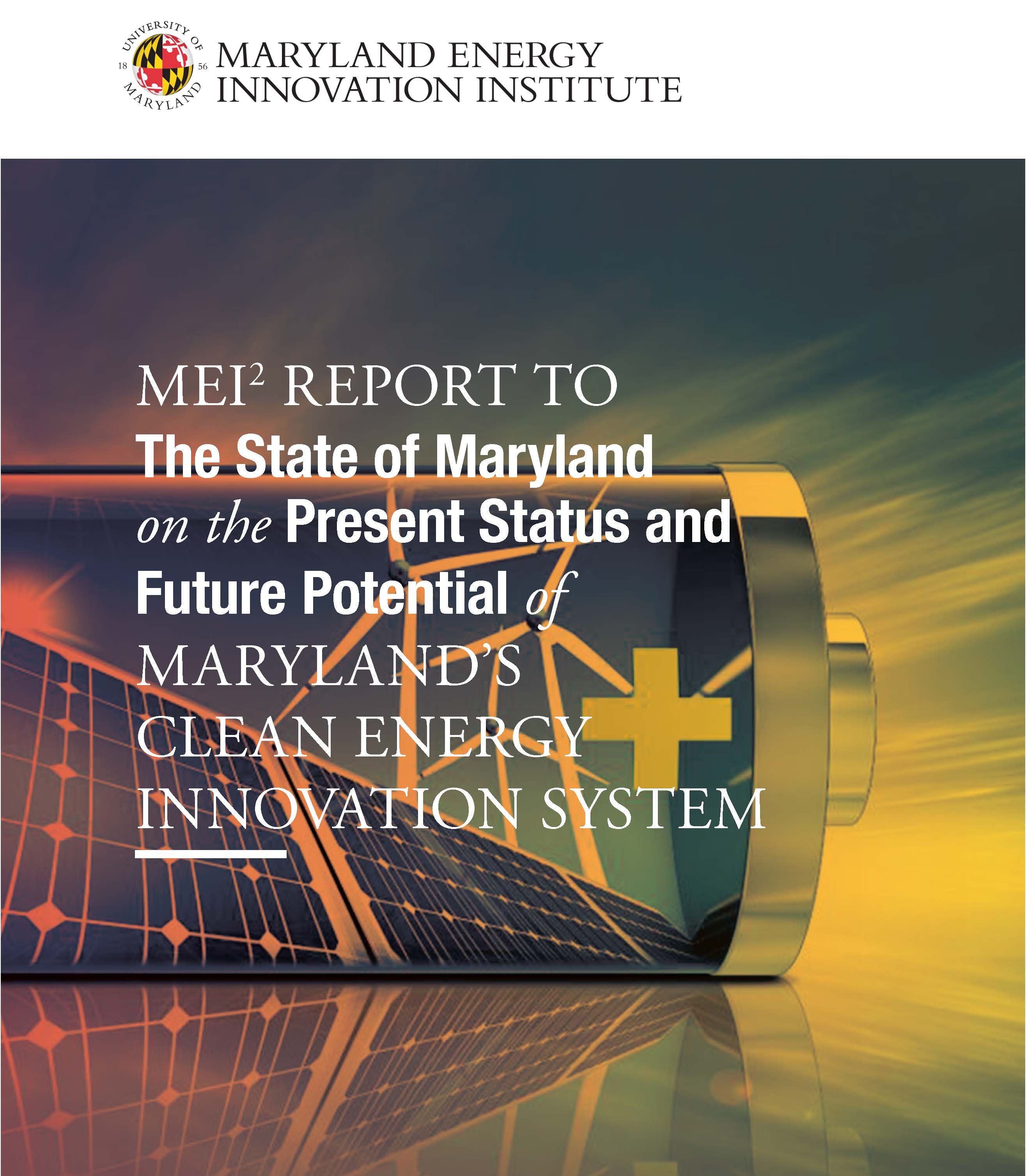 College Park/Annapolis, Md. — Investing in clean energy innovations provides the state of Maryland a foundation on which it can build a strong economic future, according to a new comprehensive report that outlines recommendations for securing the state as a clean energy leader.
This report, on the Present Status and Future Potential of Maryland's Clean Energy Innovation System, was delivered today to the state of Maryland by the Maryland Energy Innovation Institute (MEI²) housed at the University of Maryland's A. James Clark School of Engineering. The report—legislatively mandated by the state of Maryland when it created MEI2—provides in-depth analysis of the state's support of clean energy and offers a robust set of recommendations to elevate Maryland's leadership in clean energy innovation with economic benefits for its citizens.
The state has the tools, capacity, and forward-looking thinkers to become a leader in clean energy innovation and reap its economic and societal benefits, and can do so by taking a number of key steps:
Designate clean energy as an economic development opportunity by diversifying existing funding priorities of the state.
Provide developmental support for clean energy firms through competitive funding distribution to universities and other research entities.
Expand seed funding and developmental support for clean energy innovation firms by establishing a program of competitively awarded early-stage innovation funding for clean energy firms.
Judge progress through five-year stages using quantitative success metrics including growth in clean energy firm numbers, federal and private sector funding per company, and the speed of the growing number of clean energy firms in delivering new products manufactured in Maryland.
Expand existing funds and incentives through Investment Incentive Tax Credits and associated TEDCO Investment Funds to include clean energy technology
Increase financial support for clean energy innovation by increasing the Maryland Energy Innovation Fund (MEIF) to the level of $4.5 million per year for an initial period of 5 years to support early-stage innovation.
A full list of the recommendations can be found in the policy brief.
Ellen Williams, Distinguished University Professor and Lead Author of the report stated, "Worldwide, new investments in clean energy have been more than $300B per year every year since 2014, with more than $50B per year in the United States. For states such as Maryland, which has a statewide societal commitment to clean energy, the growing world market provides a natural opportunity for economic development. With its top-ten state ranking in innovation capability, its strong University system and the technological strength of its workforce, Maryland is well able to take advantage of this opportunity By creating MEI² and calling for this report, the State has taken an important step in recognizing the economic development potential of clean energy innovation."
Supported by the Maryland Energy Innovation Institute; the University of Maryland College of Computer, Mathematical, and Natural Sciences (CMNS); the University of Maryland Global Sustainability Initiative; the University of Maryland A. James Clark School of Engineering; and the Center for Regional Economic Competitiveness, this report represents input from a wide range set of stakeholders including a cross-campus effort.
Maryland's universities are at the forefront of energy research, leading the nation in major energy innovation awards such as those by ARPA-E," says Dr. Eric Wachsman, Director of MEI2. "The Governor and Legislature recognized this opportunity when they created the Maryland Energy Innovation Institute in 2017 and moreover had the forethought to mandate this report as part of that legislation. I couldn't be prouder of the report and the opportunity it demonstrates for the State of Maryland, if its recommendations are enacted, to translate that research and innovation into commercial successes for both economic growth and a more sustainable environment."
"The state of Maryland has already demonstrated an extraordinary commitment to a clean energy future, and this new report from the Maryland Energy Innovation Institute provides a tactical playbook for translating that commitment into national leadership," said Darryll J. Pines, dean of UMD's A. James Clark School of Engineering and Nariman Farvardin Professor.
"I am proud to endorse this report, which presents concrete recommendations on how Maryland can increase the number and health of clean energy firms within its boundaries," says Amitabh Varshney, Dean of CMNS. "By following the report's recommendations, the state of Maryland will develop an ecosystem that transitions cutting-edge research from the state's universities to its clean-energy firms for further development and deployment that will benefit the state and society as a whole."
"States are acting rapidly to advance their clean energy and environmental goals. Linking these broader societal goals with clean energy innovation-driven opportunities for local economic development and employment can be a win-win," remarks Kavita Surana, Assistant Research Professor at the University of Maryland Center for Global Sustainability. "The evidence-based analysis developed in this report for Maryland can also be a template for informing other states as they aim to meet these dual goals."
For more information, you can read our policy brief and factsheet.