Chunsheng Wang Promoted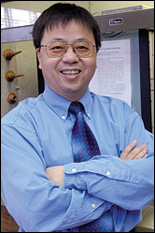 The Department of Chemical and Biomolecular Engineering (ChBE), the A. James Clark School of Engineering, and the University of Maryland Energy Research Center (UMERC) extend their congratulations to Chunsheng Wang, who has been promoted to the rank of associate professor with tenure, effective July 1.
Since his arrival in 2007, Wang has been at home in the University of Maryland's energy research community both in the department and at UMERC, establishing himself as one of the Clark School's battery experts. His group, which specializes in new and improved technologies for lithium-ion batteries, has worked to produce more efficient anodes, create a tougher silicon-based electrode, and develop electroanalytical techniques for characterizing the performance of new battery materials. The group has also worked to improve the performance and cost of low temperature alkaline fuel cells.
In 2010, Wang and his colleagues received national media attention for their development of a high surface area anode made from a "forest" of tobacco mosaic virus coated with silicon and nickel ions. The inexpensive and biorenewable technology can be used to produce millimeter- or sub-millimeter-sized energy storage devices for sensors or other tiny devices.
Wang has brought his passion for better batteries into the classroom, creating new coursework and research opportunities for both undergraduate and graduate students, including managing the upgrade of and creating a battery station for the department's Unit Operations Laboratory. He is also a mentor for the university's Gemstone program, a four-year living-learning community for selected undergraduate honors students that explores the interdependence of technology and society. For the past two years, he has coached Team Thirsty Turtles, the department's American Institute of Chemical Engineers Chem-E Car team. Under Wang's mentorship, the Thirsty Turtles won the mid-Atlantic regional championship in 2011 and placed second in 2012.
"I'm thrilled for Professor Wang," says ChBE professor and chair Sheryl Ehrman. "He has made important advances toward improving battery technology, both fundamental and applied, and he's such a great departmental citizen, serving as the Chem-E Car advisor and as a Gemstone mentor."
Wang received his Ph.D. in Materials Science and Engineering from Zhejiang University, China, in 1995. Prior to joining the University of Mayland, he was an assistant professor at the Center for Manufacturing Research, part of the Department of Chemical Engineering at Tennessee Technological University.
Published May 30, 2012