Wachsman Receives Outstanding Achievement Award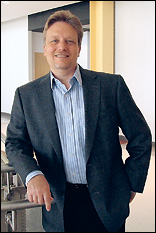 University of Maryland Energy Research Center (UMERC)
director Eric Wachsman (joint, Departments of Materials Science & Engineering and Chemical & Biomolecular Engineering) has received the
Electrochemical Society
High Temperature Division's 2012 Outstanding Achievement Award.
Wachsman will accept the award at a ceremony at the society's 2012 Pacific Rim Meeting on Electrochemical and Solid-State Science (PRIME) in Honolulu, Hawaii, in October, where he is also scheduled to deliver a talk.
Wachsman's research interests include the development of solid oxide fuel cells (SOFCs), gas separation membranes, solid-state gas sensors, electrocatalytic conversion of CH4, and the post-combustion reduction of NOx using advanced ion conducting materials.
Published May 23, 2012