Empowering the next generation towards a clean hydrogen economy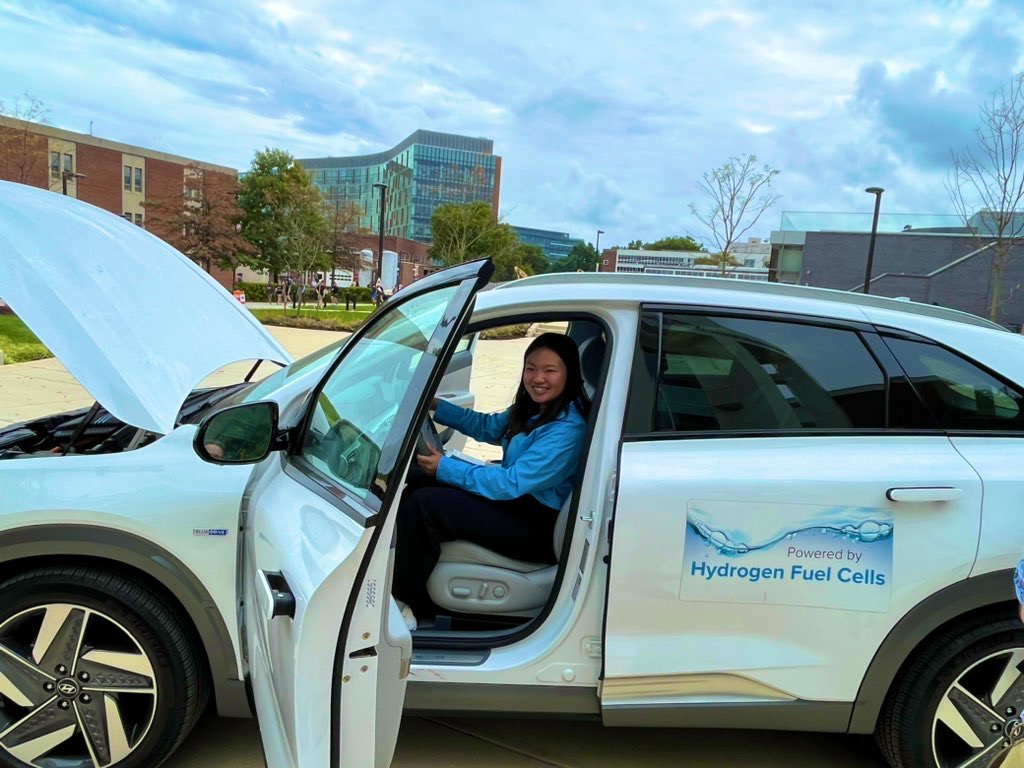 As the world looks towards reducing greenhouse gas emissions and impacts from climate change, clean hydrogen will be instrumental in a number of "hard-to-decarbonize" sectors, including heavy-duty transportation, industrial and chemical processes, synthetic fuels, and long-duration energy storage. Hydrogen is already used in light duty transportation and in industrial and chemical applications such as petroleum refining and fertilizer production, food procession and cosmetics – all important processes that are essential to our quality of life.
Therefore, on October 6, 2023, the Maryland Energy Innovation Institute (MEI2) welcomed U.S. Department of Energy (US DOE) partners, dignitaries from nearly 20 countries within the International Partnership for Hydrogen and Fuel Cells in the Economy (IPHE), and academic researchers and students from across Maryland and the District of Columbia for a day of education and outreach. The meeting focused on education, research, and workforce development through discussions on current skills gaps; challenges faced by underrepresented groups; and ways to strengthen recruitment, retention, and advancement of clean hydrogen professionals globally.
By partnering with MEI2, and showcasing current student research (at all levels - undergraduate, graduate and post-doctoral), the University of Maryland (UMD) and other regional academic institutions such as Johns Hopkins, George Washington University and Morgan State University, hope to empower the next generation of employees to enable a sustainable clean hydrogen economy. The event was a great precursor to the start of Hydrogen Week (October 8 as the date 10/08 shares the same sequence of numbers as the atomic weight of hydrogen: 1.008) and an opportunity to celebrate clean hydrogen and the crucial role this element plays in supporting a robust, equitable clean energy future globally.
IPHE Chair, Rebecca Maserumule from the National Department of Science and Innovation (DSI) in South Africa, Sunita Satyapal, IPHE Vice-Chair and Director at the DOE Hydrogen and Fuel Cell Technologies Office, and Dr. Eric Wachman, MEI2 director and UMD Distinguished University Professor, (photo shown right courtesy of Adam Ontiveros-Oberg, DOE Communications Specialist) opened the event noting the large number of students in attendance and emphasizing the importance of bringing new talent and new ideas to hydrogen and fuel cell research and deployment.
Maserumule commented on the importance of a just and inclusive net zero carbon economic growth for societal wellbeing; and she announced the recent launch of the Hydrogen Diversity Equity Inclusion and Accesibility (H2-DEIA) platform. "The Education and Outreach event which was held during the week of the IPHE Steering Committee Meeting creates the space for current leaders of the Hydrogen Economy to come together with the future leaders of the Hydrogen Economy to have important conversations that will shape the future of the sector."
One of the first steps for H2-DEIA is a pilot mentor-mentee program that will guide early career professionals and students by identifying skill gaps; addressing challenges faced by underrepresented groups; and strengthening the recruitment, retention, and advancement of clean hydrogen professionals. H2-DEIA serves a global purpose—uniting governments, industry, academia, non-profit organizations, research institutes, capital investors, and the broader stakeholder community to help shape a skilled, diverse workforce for the clean hydrogen industry.
While clean hydrogen is essential in achieving net zero emissions, safety and reliability research are imperative as they are key barriers to hydrogen acceptance in the marketplace. Dr. Katrina Groth, UMD associate professor and associate director for research for UMD's Center for Risk and Reliability, noted that "UMD has one-of-a-kind capabilities in hydrogen safety, and reliability engineering, and fire protection, and several researchers in the Clark School of Engineering are developing new insights about how to enable hydrogen systems to be safe, reliable, and economical."
Building the foundation of a sustainable workforce in hydrogen and fuel cells is also imperative. The IPHE Early Career Network Panel (image shown here includes left to right: Noe van Hulst, Vice-Chair IPHE; Katrina Groth, UMD; Luisa Boll, NOW GmbH Germany; Rebecca Erwin, DOE ORISE Fellow; Adam Merah, Nel Hydrogen - Photo courtesy of Adam Ontiveros-Oberg, DOE Communications Specialist) encouraged the students in attendance to engage with more professors, peers, and professionals during their academic time and to diversify their perspective, focusing not only on the science, but engaging in environmental justice issues and economics by looking at a macro perspective associated with clean hydrogen technology.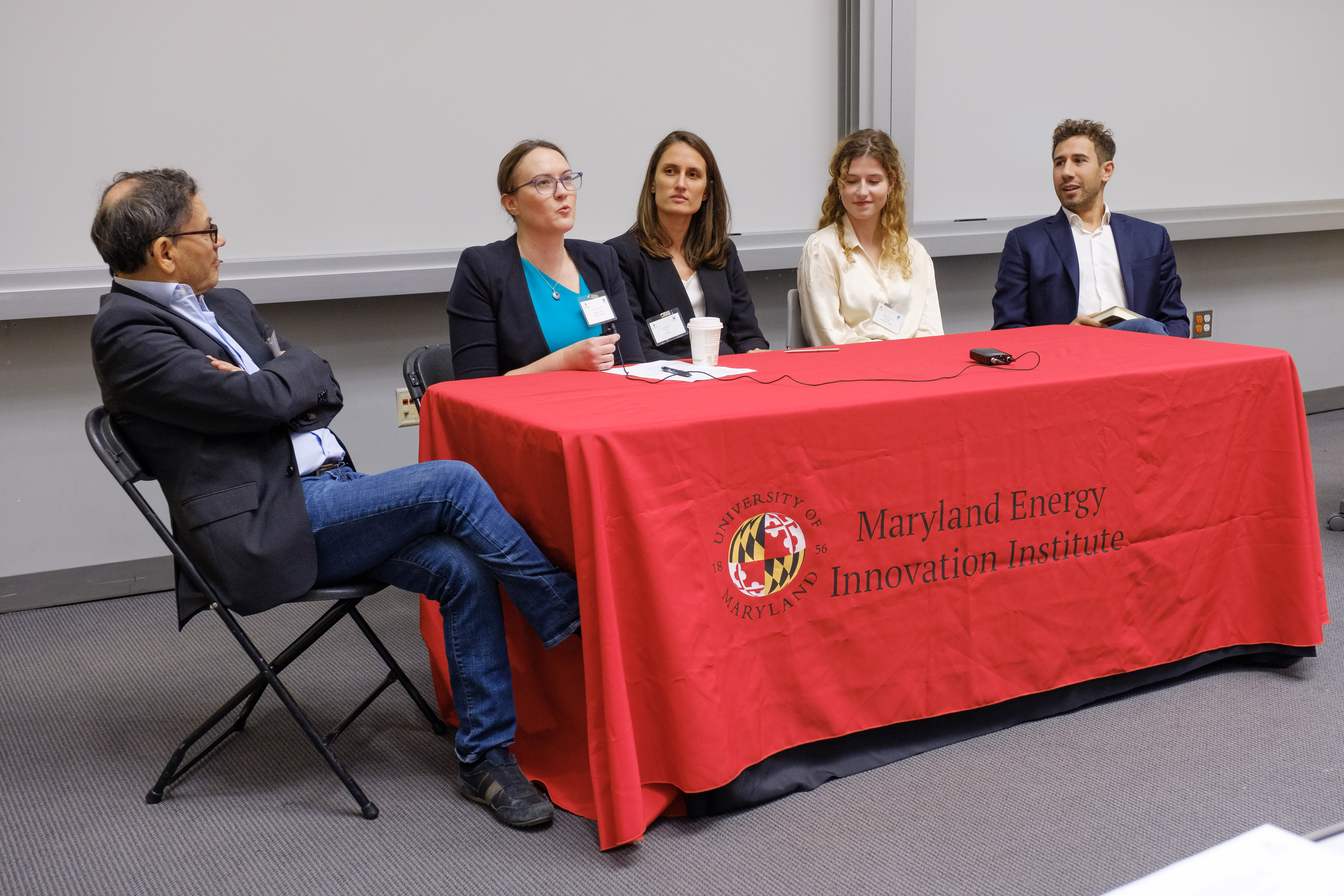 All of this segued into an open poster session highlighting current student research at the various academic institutions throughout Maryland and Washington, D.C. Additionally, the students were able to view a commercial hydrogen fuel cell car and meet with DOE HFTO staff to discuss career opportunities.
Founded in 2003, IPHE is an independent entity that functions as a direct government-to-government partnership to facilitate and accelerate the transition to clean and efficient energy and mobility systems using hydrogen and fuel cell technologies across applications and sectors. Today, IPHE's 24 international partners share information and help facilitate multinational research, development, and deployment initiatives that advance the introduction of hydrogen and fuel cell technologies on a global scale.
Published October 11, 2023