Alumnus Goodman To Serve on Maryland Clean Energy Board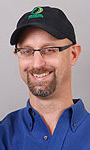 Dan Goodman
(B.S.E.E., '87), a Clark School of Engineering alumnus and Smith School of Business senior fellow for renewable energy, was confirmed recently by the Maryland Senate as one of nine Board members of the
Maryland Clean Energy Center
.
Goodman was appointed to the Board by Gov. Martin O'Malley in October. He serves as the Board's Treasurer and Chair of the Finance Committee.
"I'm very honored by this appointment and by the faith the Governor and the Senate have placed in me," said Goodman. "It is my hope that we can make Maryland the 'go to' state for clean energy during this critical time in our history, when the new administration in Washington has made clean energy a critical national priority."
Goodman is an acknowledged authority on renewable energy education and entrepreneurship. He has been an Entrepreneur-in-Residence at the Smith School's Dingman Center for Entrepreneurship for four years and was formerly the Entrepreneur-in-Residence at the university's Office of Technology Commercialization. Goodman founded and directs the Foundation for Renewable Energy Education and its Biodiesel University program.
The Maryland Clean Energy Center was created by the state legislature as a quasi-governmental non-profit organization. It is the state's clean energy economic development authority tasked with growing a vibrant clean energy economy in Maryland, focusing on increased research and development, entrepreneurship, business incubation, education and consumer adoption. The Board is working to secure funding for the Center's operations and is evaluating applications from counties and cities across the state seeking to locate the Center's headquarters in their area.
Published February 19, 2009