Collegiate Inventors Competition Call for Entries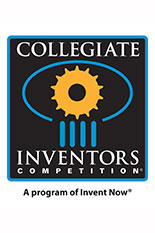 You've invented something that has a good chance of impacting the world. We have over 20 years of honoring inventions like yours through the Collegiate Inventors Competition program. So why not see if your idea is up to the challenge.
If your invention is chosen among the best, we will bring you to Washington, D.C. to present your idea to a panel of some of the most important and influential inventors and invention experts in the nation. Last year's judging panels included National Inventors Hall of Fame Inductees Don Bateman, Tom Fogarty, Ted Hoff, Don Keck, Al Langer, Steve Sasson, Gary Starkweather, andJim West.
You'll also meet other top young inventors from around the country, have your idea showcased on a national stage, and compete for over $100,000 in prizes including a $15,000 top prize for Graduate students and $12,500 for Undergraduate students. Your advisor wins a cash prize too.
The deadline for submitting entries is June 14, 2013.

This is for any interested students, including but not limited to those in science, engineering, technology, and medical fields. 

Visit www.invent.org/collegiate for more information about the Competition.
Published April 25, 2013