DOE Awards $1.25M to UMERC Researchers to Develop Safer, Better Batteries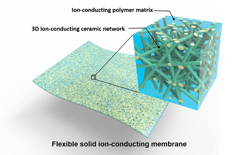 The Department of Energy (DOE) has awarded $1.25M to a team of researchers at the University of Maryland Energy Research Center (UMERC) as part of the Vehicle Technologies Office Program-Wide FY16 selections for the development of advanced high-voltage electrolytes and additives, conformable and self-healing solid-state electrolytes, and lithium metal protection.
The technology developed by UMERC Director Eric Wachsman and Department of Materials Science and Engineering professors Liangbing Hu and Yifei Mo, has already shown breakthroughs in developing the first flexible, solid-state, ion-conducting membrane based on a 3D Li-ion conducting ceramic nanofiber network. The DOE will be funding this project to design self-healing, 3-D conformal solid-state electrolytes to prevent dendrite formation and achieve high battery cycle life.
In a paper published in June in the Proceeding of the National Academy of Sciences (PNAS), the research promises to develop a flexible solid battery electrolyte with superior thermal stability and electrochemical stability to high voltage. "This technology is unique in its ability to replace current flammable organic liquid electrolyte systems in lithium-ion batteries with a solid electrolyte that enables both higher energy density lithium-metal anodes and the use of conventional battery manufacturing facilities", says Dr. Wachsman.
Dr. Hu adds that "the 3D interconnected network with percolated garnet nanofibers can lead to high ion conductivity and great flexibility, which are important for safe, solid state battery fabrications and operations."
UMERC researchers are rapidly developing safer, higher capacity, and longer lasting lithium batteries for a wide range of applications, from portable electronics such as smart phones, to electric vehicles and beyond.
UMD's project is part of the DOE's $137 million investment in vehicle technology research under this announcement. These projects aim to reduce costs and improve the efficiency of plug-in electric, alternative fuel, and conventional vehicles. The Department of the Army is contributing an additional $2.2 million through the Advanced Vehicle Power Technology Alliance to support projects specifically focused on advanced high-voltage electrolytes for batteries and advanced engine and powertrain technologies to improve vehicle fuel efficiency.
Click here to read the full Department of Energy press release. The full list of projects awarded under this announcement can be found here.
Related story: Safer, Better Li-Ion Batteries
Published August 18, 2016