Electric Chevrolet Volt Visits Clark School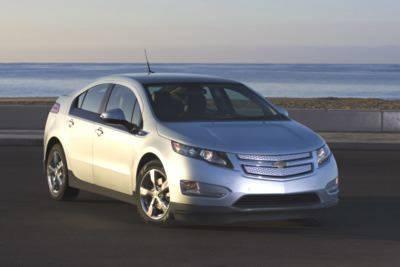 The Chevrolet Volt, an extended-range electric vehicle slated for production this coming November, is coming to the Clark School's Kim Engineering Building plaza April 21 as part of campus Earth Month activities. The visit includes a noon presentation from faculty and Chevrolet about automotive advances helpful to the environment and campus sustainability efforts.
Eric Wachsman, professor of materials science and engineering, director of the University of Maryland Energy Research Center and William L. Crentz Centennial Chair in Energy Research will help lead the event.
The vehicle will be on display from 8 a.m. to 4 p.m. that day. A special forum about automotive technology and sustainability will take place from noon to 1 p.m. in the Kay Boardrooms in the Kim Building.
Regional leaders have been invited to campus to drive the car along with University officials and faculty who focus their research on sustainability challenges that include creating greener transportation options and infrastructure.
A raffle at noon will give five students and three faculty/staff members attending the presentation an opportunity to win a drive in the Volt.
The event is also designed to educate the UM community and invited guests about what needs to be done by government and industry to find better ways to achieve sustainable transportation - and highlight ways that researchers at Maryland and other schools of higher education are developing greener transportation options.
A press release about the event is available online.
Published April 15, 2010