Energy Secretary and Maryland Governor visit with MEI2 startups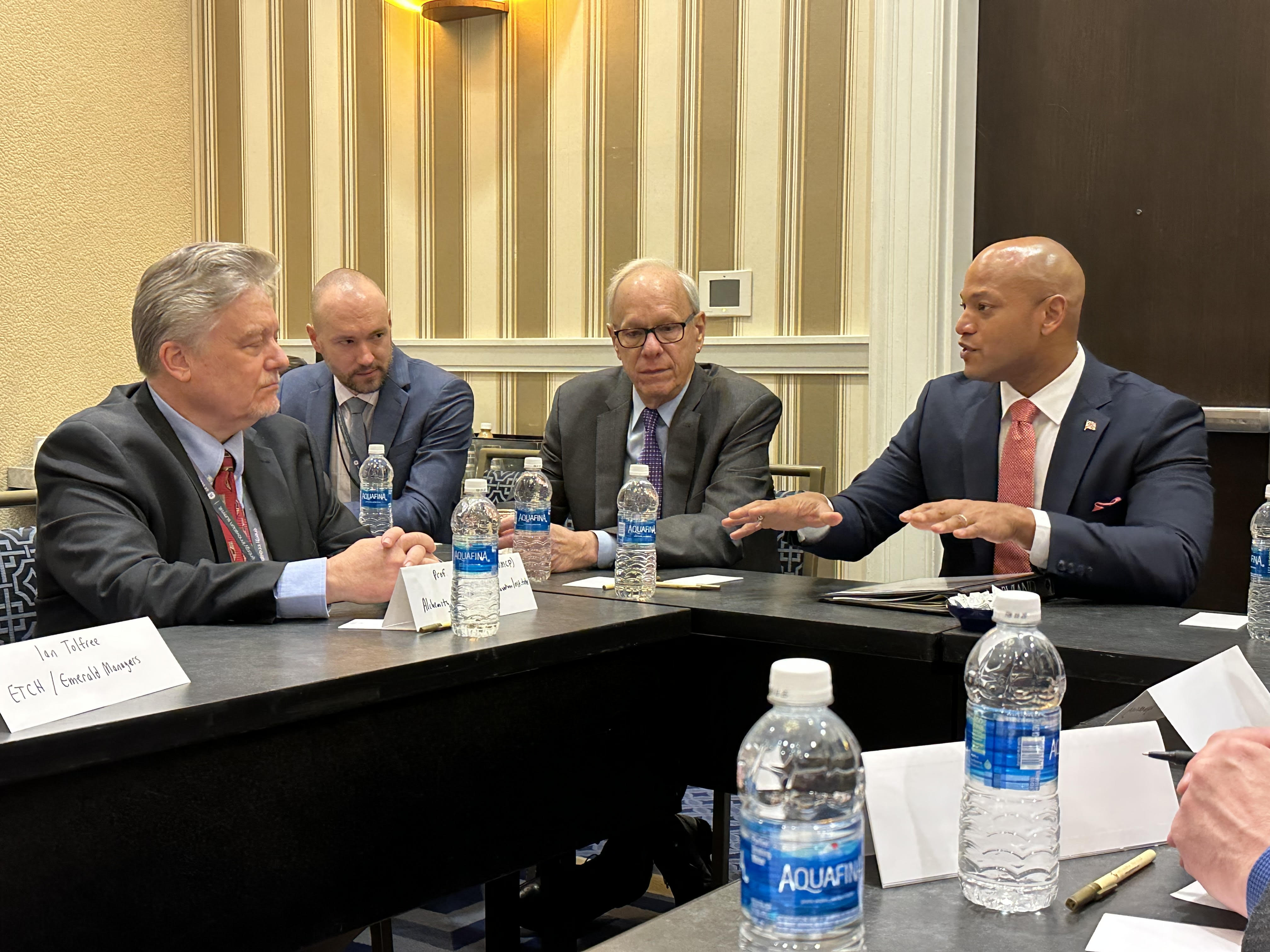 The Department of Energy's Advanced Research Projects Agency-Energy (ARPA-E) Summit was held on March 22-24, 2023 at National Harbor in Maryland. The annual conference and technology showcase bring together experts from different technical disciplines and professional communities to think about America's energy challenges in new and innovative ways. In its thirteenth year, the Summit and ARPA-E program are aimed at moving transformational energy technologies out of the lab and into the market. ARPA-E advances high-potential, high-impact energy technologies that are too early for private-sector investment. ARPA-E awardees are unique because they are developing entirely new ways to generate, store, and use energy.
Maryland Governor Wes Moore was one of the keynote speakers at the ARPA-E Summit and confirmed his commitment to energy innovation. While there he toured the technology showcase and met with Maryland Energy Innovation Institute (MEI2) and Maryland Energy Innovation Accelerator (MEIA) companies to discuss energy innovation as an economic driver in the State of Maryland as well as a way to address the global issue of climate change.
"The ARPA-E Summit demonstrates again that the best way to address the critical issue of climate change is through the economic driver of innovating new energy technologies. It was particularly gratifying to hear Governor Moore's commitment to energy innovation for the State of Maryland and even better to have the opportunity to discuss this with him after his speech." Said Dr. Eric Wachsman, Director of MEI2.
MEI2 startup InventWood participated in the SCALEUP Panel where it's Chief Manufacturing Officer Allan Bradshaw shared perspectives on the SCALEUP program as well as the challenges and approaches of scaling up a cleantech hardware technology. Scaling up a start-up or small business presents multiple challenges. This is particularly true when commercializing hard engineering technologies due to the investment required to demonstrate cost and performance at commercial scale sufficient to address market adoptions risks. Through the SCALEUP program, first launched in 2019, ARPA-E has endeavored to help address these challenges and accelerate deployment of promising technologies previously funded by ARPA-E.
Pictured: U.S. Department of Energy Secretary Jennifer Granholm (4th from left); InventWood CEO Josh Cable (6th from left); Founder Dr. Liangbing Hu (8th from left); ARPA-E Director Dr. Evelyn Wang (far right)
InventWood received a $20M SCALEUP award in November 2022. InventWood is contributing to the decarbonization of buildings and enable them to store significantly greater amounts of carbon by scaling up a game-changing wood material, MettleWood®, that is 60% stronger than construction grade steel but 80% lighter, much less expensive, and far more sustainable. UMD professors Dr. Liangbing Hu and Dr. Ming Hu are the co-PIs of this project.
The University of Maryland hosted eleven ARPA-E technology booths during the showcase including:
Additively Manufactured High Efficiency and Low-Cost CO2 Heat Exchangers (PI: Dr. Ji-Cheng Zhou)
New Environmental-Thermal Barrier Coatings for Ultrahigh Temperature Alloys (PI: Dr. Ji-Cheng Zhou)
Fast Charging, Solid-State, Roll-to-Roll Processed Li Metal Batteries Enabled by Intercalated Ions in Cellulose Molecular Channels (PI: Dr. Liangbing Hu)
Hybrid SOFC-Turbogenerator for Aircraft. (PIs: Drs. Christopher Cadou and Eric Wachsman)
Self-Forming Solid-State Batteries (Co-PI: Dr. Chunsheng Wang)
Carbon Sequestration and Climate Resiliency via Super Wood (InventWood and Dr. Liangbing Hu)
Wood Honeycombs for Lightweight, Energy Efficient Structural Applications (InventWood and Dr. Liangbing Hu)
Advanced Catalyst Manufacturing Enabled by Direct Joule Heating (Co PI: Dr. Chengwei Wang and Dr. Liangbing Hu)
Centrifugal Mirror Fusion Experiment (Co-PI: Dr. Tim Koeth)
Highly Compact Metallic Heat Exchangers for Extreme Environments (Co-PI: Dr. Hugh Bruck)
Advanced Electric Propulsion System (Co-PI: Dr. Hugh Bruck)
Since ARPA-E's inception in 2009, the University of Maryland has received 41 awards and over $117M in research funding making it one of the top academic institutions for ARPA-E awards.
Published March 28, 2023