Fourth Consecutive Win for UMD Electrochemical Society Student Chapter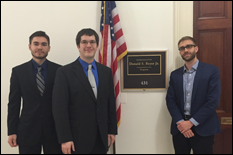 The University of Maryland Student Chapter of the Electrochemical Society (ECS) has received an ECS Student Chapter Award for the fourth consecutive year. The chapter won the ECS's inaugural Outstanding Student Chapter Award in 2013, and the Student Chapter of Excellence Award in 2014, 2015, and again this year. UMD is the only student chapter to receive consistent recognition since the creation of the ECS award.
Founded in 2011, the UMD ECS student chapter impacts education and research through its outreach activities and presentations at ECS conferences. Its diverse membership includes students from the Departments of Chemical and Biomolecular Engineering (ChBE), Materials Science and Engineering (MSE), Chemistry & Biochemistry, Electrical Engineering, and Mechanical Engineering. The group is advised by Professor Eric Wachsman (MSE/ChBE), director of the University of Maryland Energy Research Center.
The current UMD ECS Student Chapter president, Patrick Stanley (MSE) remarked on the chapter's continued success: "It is in thanks to our many members and the various activities they organize which leads to the continued success of our chapter. Being named a [ECS] Chapter of Excellence reaffirms that our actives help improve the local and scientific communities. We look forward to continuing our past activities, such as congressional visits and NIST's Adventures in Science, while planning new events to further broaden our impact."
More information about the ECS Student Chapter Award and this year's winners can be found online at the ECS Redcat Blog.
Published July 25, 2016