Fraik Wins Poster Award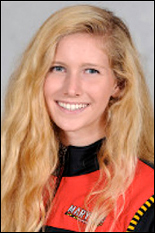 University of Maryland rising senior Emily Fraik (Department of Chemical and Biomolecular Engineering) won a Best Poster Award at the 20th International Conference on Solid State Ionics (SSI-20), held in Keystone, Co. in June 2015.
Fraik conducted the award-winning research under Professor Eric Wachsman, director of the University of Maryland Energy Research Center, as a participant in the university's RISE (Research, Instruction, Service, and Entrepreneurship) Leadership Academy.
Outside of the lab and classroom, she is a Clark School Ambassador, a member of the ODK and TBP honor societies, a member of Women In Engineering's student advisory board, and an outside hitter for the University of Maryland volleyball team.
To learn more about Fraik, visit her profile on the ChBE web site.
Published July 4, 2015