Hu, Ulukus, DeVoe Recognized with UMD Distinguished Honors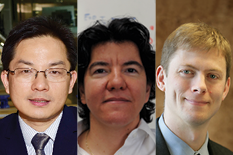 Three Maryland Engineering professors—Liangbing Hu, Sennur Ulukus, and Don DeVoe—are among the 16 University of Maryland faculty members recognized this year as Distinguished University Professors and Distinguished Scholar-Teachers.
Herbert Rabin Distinguished Professor Liangbing "Bing" Hu and Anthony Ephremides Professor Sennur Ulukus are among the seven UMD faculty selected as 2023 Distinguished University Professors. The title is the highest appointment bestowed on a tenured faculty member; it is a recognition not just of excellence, but of impact and significant contribution to the nominee's field, knowledge, profession, and/or practice.
With the appointments of Hu and Ulukus, Maryland Engineering's total number of Distinguished University Professors is 21. View the full list of Clark School faculty members who have been recognized as Distinguished University Professors.
Wilson H. Elkins Professor Don DeVoe is among the nine UMD faculty selected as 2023 Distinguished Scholar-Teachers. The award honors senior tenured faculty members who combine outstanding scholarly accomplishment with demonstrated excellence in teaching. Distinguished Scholar-Teachers make a public presentation on a topic within their scholarly discipline; lecture information will be available online.
With the appointment of DeVoe, Maryland Engineering's total number of Distinguished Scholar-Teachers is 32. View the full list of Clark School faculty members who have received the Distinguished Scholar-Teacher Award.
"Maryland Engineering has outstanding faculty: leaders who inspire and train an emerging generation of engineers to take on challenges that inspire us, and conduct research that reshapes how we live. Bing, Sennur, and Don have achieved those goals and more, and we are glad to see them recognized for their remarkable contributions," said Samuel Graham, Jr., dean of the Clark School. "We are proud that the Clark School community is home to people who are committed to creating opportunities for all and improving the human condition."
Hu, Ulukus, and DeVoe will be honored at the university's Convocation, held annually during the fall semester. Event information will be updated on the Faculty & Staff Convocation website.
Meet the Clark School's 2023 UMD Distinguished Faculty:
Liangbing Hu
Professor, Department of Materials Science and Engineering
Affiliate, Maryland Energy Innovation Institute
Director, Center for Materials Innovation
Hu, who is the Herbert Rabin Distinguished Professor, has published some 400 research papers, including 10 papers in the prestigious Science and Nature journals. He has received a number of honors for his work, including the Highly Cited Researchers list by Clarivate Analytics (2016–2023); Blavatnik National Awards Honoree; TAPPI Nano Middle Career Award (2019); R&D 100 Winners (2018, 2020–2022); Office of Naval Research Young Investigator Award (2016); University of Maryland Invention of the Year (2019, 2014, 2022); and Air Force Young Investigator Award (2013). He is the director of Center for Materials Innovation in the Clark School and has co-founded multiple startups at UMD, including InventWood Inc., HighT-Tech Inc., and WH-Power Inc. His research group focuses on materials innovations, device integrations, and manufacturing in general with ongoing research activities on wood nanotechnologies, 3000 K extreme materials, and beyond Li-ion batteries. Hu is a fellow of the Materials Research Society.
Sennur Ulukus
Professor and Chair, Department of Electrical and Computer Engineering
Affiliate, Institute for Systems Research
Ulukus is the first woman faculty member from engineering to be named a Distinguished University Professor. Since joining Maryland in 2001, she has been named a UMD Distinguished Scholar-Teacher, received the named Anthony Ephremides Professorship in Information Sciences and Systems, served as the Department of Electrical and Computer Engineering (ECE)'s associate chair for graduate studies, and co-founded the Professional Masters Program in Machine Learning; since 2022, she has served as chair of ECE. Ulukus has been honored with an IEEE Marconi Prize Paper Award in Wireless Communications, NSF CAREER Award, IEEE Communications Society Best Tutorial Paper Award, IEEE Communications Society Women in Communications Engineering Outstanding Achievement Award, and IEEE Communications Society Technical Committee on Green Communications and Computing Distinguished Technical Achievement Recognition Award. She is a Fellow of IEEE.
Don DeVoe
Professor, Department of Mechanical Engineering
Affiliate, Department of Chemical and Biomolecular Engineering
Affiliate, Fischell Department of Bioengineering
DeVoe is a Wilson H. Elkins Professor and associate chair of research and administration in the Department of Mechanical Engineering; he holds affiliate appointments in the Department of Bioengineering and Department of Chemical and Biomolecular Engineering, and is a core faculty member of the Fischell Institute for Biomedical Devices. He received his Ph.D. in mechanical engineering from the University of California, Berkeley in 1997 with a focus on microsystems technology. His current research interests include microfluidic systems for applications in nucleic acid diagnostics, cancer immunology, liposomal nanomedicines, and aerobiology. DeVoe is a recipient of the 2013 University System of Maryland Regents Award for Research, was named a 2008 Kavli Fellow of the National Academy of Sciences, and was recognized with the Presidential Early Career Award for Scientists and Engineers from the National Science Foundation in 2000 for advances in microsystems technology. He recently served as a senior editor for the IEEE/ASME Journal of Microelectromechanical Systems, and as treasurer for the Chemical and Biological Microsystems Society. He is a Fellow of the Royal Society of Chemistry (RSC) and the American Institute for Medical and Biological Engineering (AIMBE).
Published July 6, 2023