Maryland Engineers Wachsman, Zhao elected Fellows of the National Academy of Inventors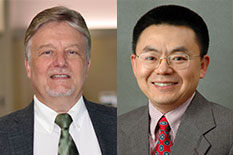 Two A. James Clark School of Engineering professors have been named to the National Academy of Inventors' (NAI) Class of 2022 Fellows, joining the ranks of some of the nation's most prestigious and creative academic inventors.
Eric Wachsman, a Distinguished University Professor and director of the Maryland Energy Innovation Institute, and Ji-Cheng "JC" Zhao, a Minta Martin Professor and chair of the Department of Materials Science and Engineering, are among 169 new Fellows who represent 110 research universities and governmental and nonprofit research institutes worldwide and collectively hold over 5,000 U.S. patents.
"Regardless of the disciplines they specialize in or the challenges they address, Clark School engineers share a goal: finding solutions to improve people's quality of life through technological innovations that impact society. This honor is proof that Eric and JC are achieving that ideal," said Clark School Dean Samuel Graham, Jr. "Congratulations to Eric and JC. We're happy to see their accomplishments and leadership recognized, and proud to see their expertise translate into inventions as members of the Maryland Engineering community."
Pioneering advanced ceramic materials and structures, Wachsman developed the first solid-state battery to achieve the Department of Energy Fast Charge Goal for Li-metal cycling at room temperature. In 2015, he co-founded energy startup company Ion Storage Systems (ION) to commercialize this game-changing technology; earlier this year, ION closed its Series A funding round, welcoming investments from Toyota Ventures, Alsop Louie Partners, Tenaska, Bangchak Corporation, and others. Wachsman's inventions include record high power density solid oxide fuel cells, catalytic membrane reactors that convert natural gas to value added chemicals with no greenhouse gas emissions, and solid-state sensors that can selectively measure levels of harmful pollutants in combustion exhaust. He holds 37 U.S. patents that have been licensed to four companies. He is the immediate past president and a Fellow of the Electrochemical Society, Fellow of the American Ceramic Society, and elected member of the World Academy of Ceramics.
Zhao is a pioneer in the development of accelerated methodologies for materials discovery and rapid screening. He is an inventor on 49 issued U.S. patents, most of which cover new alloys and processes; one of the alloys he co-invented is widely used in General Electric (GE) electricity-generation gas turbines. Zhao was the 2021 recipient of the TMS William Hume-Rothery Award, presented annually to recognize a scientific leader for exceptional scholarly contributions to the science of alloys. He also received a 2022 Humboldt Research Award and is slated to receive the 2023 J. Willard Gibbs Phase Equilibria Award from ASM International. Zhao is a Fellow of ASM International, the Materials Research Society, and The Minerals, Metals and Materials Society (Class of 2023).
The NAI Fellows Program highlights academic inventors who have demonstrated a spirit of innovation in creating or facilitating outstanding inventions that have made a tangible impact on the quality of life, economic development, and the welfare of society. Election as a NAI Fellow is the highest professional distinction awarded to academic inventors.
"This year's class of NAI Fellows represents a truly outstanding caliber of innovators. Each of these individuals have made significant impact through their work and are highly-regarded in their respective fields," said Paul R. Sanberg, president of NAI. "The breadth and scope of their inventions is truly staggering. I am excited to see their creativity continue to define a new era of science and technology in the global innovation ecosystem."
To date, NAI Fellows hold more than 58,000 issued U.S. patents, which have generated over 13,000 licensed technologies and companies and created more than one million jobs. Over $3 trillion in revenue has been generated based on NAI Fellow discoveries.
Wachsman and Zhao join the ranks of some of the nation's most prestigious and creative academic inventors, alongside 11 other University of Maryland NAI Fellows: John Baras, 2015; Robert Fischell, 2015; Ben Shneiderman, 2015; Rita Colwell, 2016; former UMD President and NAE President C.D. Mote, Jr., 2017; Ray Liu, 2019; Min Wu, 2019; Rama Chellappa, 2020; former UMD Vice President for Research Laurie Locascio, 2020; Ming Lin, 2021; and Vincent C.O. Njar, 2021. The 2022 Class of Fellows will be inducted at the Fellows Induction Ceremony at NAI's 12th Annual Meeting in June 2023 in Washington, D.C.
Published December 8, 2022