UMERC exhibits large presence at 2017 DOE ARPA-E Energy Summit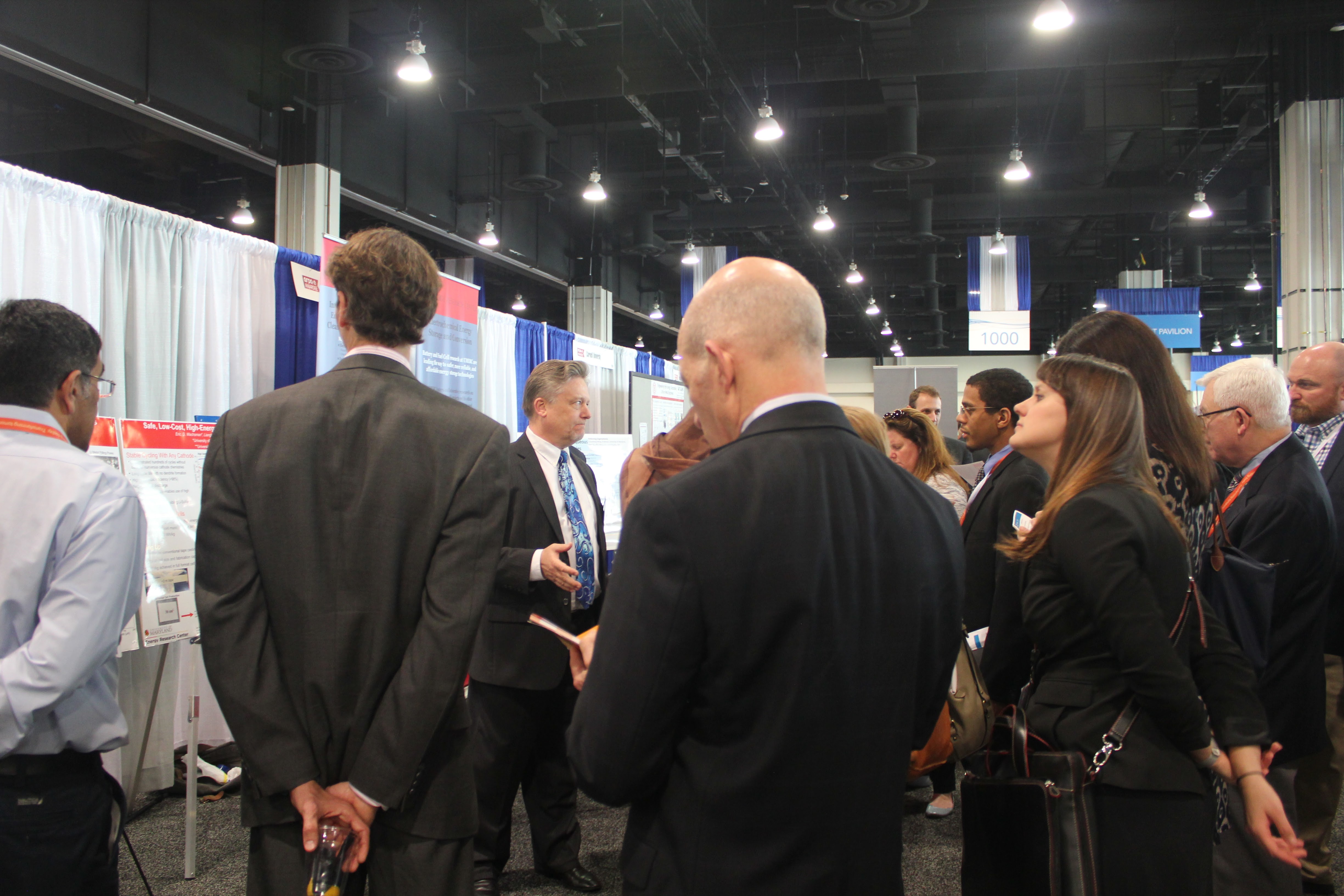 The 2017 (Advanced Research Projects Agency-Energy) ARPA-E Energy Summit at the National Harbor in D.C. highlighted energy advances in basic science, innovation and commercialization. Initiated in 2009 with $400 million appropriated by Congress to "identify the most urgent challenges the U.S. faces in maintaining leadership in key areas of science and technology", ARPA-E funds a diverse set of programs that empower researchers with funding, technical assistance, and market readiness.
In his opening address, ARPA-E Director, Dr. Eric Rohlfing, noted that approximately 250 projects would be on display highlighting America's brightest and best energy innovators. The goal of ARPA-E is to make energy "cheaper, cleaner and better" according to Rohlfing. He also emphasized an additional ARPA-E goal to assist innovators commercialize new energy technology such as UMD's high performance fuel cell technology that became Redox Power System, LLC (pictured behind him). Since 2009, ARPA-E has awarded $1.5 billion in funding, and the private sector has invested $1.8 billion to continue the development and commercialization of these projects. Since its inception, UMD has received 16 ARPA-E awards, 9 of which were showcased at the technology expo during the 2017 summit, more than any other university or commercial enterprise. To date, UMD has participated in $50M in ARPA-E funded awards.
On display in the 9 UMD showcase booths were projects focused on energy storage such as solid-state Li-ion batteries and aqueous batteries; dry cooling systems for power plants, thermally responsive fabrics, personal cooling devices and multi-modal transportation systems. Several tours of the showcase were offered each day. The defense tour specifically requested a visit at the UMD Energy Research Center (UMERC) booth that was focused on Solid-State Lithium-Ion Batteries. Members of the armed service laboratories were extremely interested in the noncombustible batteries produced at UMERC through the ARPA-E Robust Affordable Next Generation Energy Storage System (RANGE) project. Dr. Eric Wachsman, Director of UMERC, highlighted the safety of the batteries and demonstrated their flexibility, lower weight, superior performance and their ability to maintain a longer life. "The tremendous interest in our battery technology by the defense community was clearly evident during the tour and a strong indicator of its commercial potential by these early adopters" said Wachsman. Similarly Dr. Chunsheng Wang demonstrated his water-based lithium-ion battery, which improves the energy density and achieves the same performance as a standard lithium-ion battery, but is smaller and lighter. The salt-water electrolyte also makes these batteries safer, a fact not lost on the Army Research Lab which is a co-PI on the ARPA-E award.
UMD has also received multiple awards in the Advanced Research in Dry Cooling (ARID) program. During the technology showcase, Dr. Farah Singer and her colleagues at the UMD Center for Environmental Energy Engineering (CEEE) demonstrated their polymer composite heat exchanger for dry cooling. Using their expertise in 3D printing, the group is able to develop polymer-based, air-cooled heat exchangers for use in indirect dry cooling systems. The heat exchanger modules are low-cost, low-weight, and resistant to corrosion. This technology could replace current evaporative cooling power plant systems. For many in Singer's group, this was their first time attending the ARPA-E Summit and they were excited by the potential commercial interest in their project.
Likewise, ARPA-E projects based on Delivering Efficient Local Thermal Amenities (DELTA) were highlighted during the summit. Dr. YuHuang Wang, UMD Associate Professor of Chemistry and Biochemistry, displayed his dynamically responsive clothing fabric that extends the skin's thermoregulation ability to maintain comfort in hotter or cooler office settings. The textile is thinner, lightweight and lower costing while providing more active control over the energy exchange between the body and the environment. Meanwhile, the Robotic Personal Computing Device (RoCo), was specifically highlighted during one the technology demonstrations. Todd Stave, CEO of Mobile Comfort, a Maryland start-up company helping to commercial and market RoCo gave an overview and live demonstration of the device. Stave said that RoCo's value is that it effortlessly provides personalized local comfort, when and where it is needed, while increasing user productivity and saving energy. Dr. Reinhard Radermacher, UMERC lead PI and director of the Center for Environmental Energy Engineering (CEEE) at the James A. Clark School of Engineering, said, "One of the unique advantages of the device is that RoCo does not reject waste heat while cooling, thus it does not negatively affect the comfort of neighbors or bystanders."
UMD's National Transportation Center was also on hand to demonstrate their technology capable of delivering personalized, real-time travel information to users and incentivizing travelers to adopt more energy-efficient travel plans. The group will integrate information on individual traveler behavior to simulate the effects of traffic and information on individual traveler choices on energy use in the Washington, D.C./Baltimore, MD metro area. During the showcase, many other universities and industry partners repeatedly commented on the enormous presence by the University of Maryland.
But technology showcase booths were not the only indication of the large UMD contingency at the summit. UMERC Associate Professor, Liangbing Hu, was selected as 1 of 6 from over 80 applicants to pitch his transparent wood technology at the Shell Game Changer contest. Hu pitched his team's transparent wood research demonstrating it provides better thermal insulation and lets in nearly as much light as glass, while eliminating glare and providing uniform and consistent indoor lighting. Following the pitch competition, Hu received numerous inquiries on his process, the next steps and potential applications. He noted that he would be following up with potential investors, as he looks for additional funding opportunities.
And finally, Dr. Michael Ohadi, UMD Professor of Mechanical Engineering, on leave currently as an ARPA-E program director, pitched his new idea entitled: "Turn up the Temperature: High Efficiency Power Cycles" which he hopes to transform into a call for new ARPA-E projects. The goal of the Program Director Fast Pitch sessions were to provide current program concepts and new "out of the box" ideas to engage prospective researchers in a conversation and to streamline ideas and facilitate the formation of new research teams.
On the first evening, UMERC hosted a dinner co-sponsored by the Maryland Department of Commerce for government and industry leaders from the Maryland Energy Administration, Department of Natural Resources, Washington Gas and Light, and Lockheed Martin to name a few, as well as UMD's numerous ARPA-E awardees. Katherine Magruder, Executive Director of the Maryland Clean Energy Center said, regarding the dinner, "I found the event to be a great opportunity to meet research professionals from the University, and learn about their work to develop energy technologies! The excitement they have about their work made me even more enthusiastic about potential future commercial applications and product development." From the opening day to the Summit's closing, it was clear that ARPA-E funded innovation is the key to generating cleaner, more affordable energy, and the creation of transformative U.S. energy industries. Moreover, UMD's tremendous presence at the 2017 Summit confirmed its role as a leader in energy research, development, and innovation.
Published March 16, 2017