Wachsman Talks Fuel Cells on "Ceramic Tech Today" (VIDEO)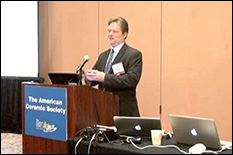 A lecture by
University of Maryland Energy Research Center (UMERC)
director Eric Wachsman (Departments of Materials Science & Engineering and Chemical & Biomolecular Engineering) on the effect of government policy on the further development and commercialization of solid oxide fuel cells (SOFCs)
has been featured on Ceramic Tech Today,
the ceramic materials, applications and business blog of the American Ceramic Society (ACerS).
In the video, a recording of Wachman's invited talk at the 37th International Conference & Exposition on Advanced Ceramics and Composites, Wachman explains that despite the fact that SOFCs address or fulfill all six of the fundamental energy strategies outlined in the U.S. Department of Energy's First Quadrennial Technology Review, they have been generally overlooked in favor of the proton exchange membrane (PEM) fuel cell. Unlike PEMs, SOFCs do not rely on hydrogen and are capable of oxidizing virtually any fuel—including gasoline, diesel and natural gas—which, he says, makes them ideal for use now, while the country works on building an infrastructure to support hydrogen fuel distribution. Wachsman suggests how scientists engaged in SOFC research can pursue the attention and funding the technology deserves.
For more Information:
Watch the presentation, "Role of Solid Oxide Fuel Cells in a Balanced Energy Strategy," at Ceramic Tech Today »
Published April 1, 2013