A Boost for International Research Collaboration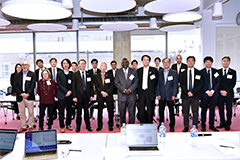 Researchers from several Japanese universities joined U.S. counterparts on November 1-2 at the University of Maryland's (UMD) A. James Clark School of Engineering with the goal of laying out paths for collaboration in areas involving advanced technologies.
Hosted by the UMD civil and environmental engineering department, the Workshop on U.S.-Japan Digital Innovation and Advanced Technology brought together representatives from several Japanese academic institutions—including Nagoya, Sophia, Tohoku and Tsukuba Universities—and U.S. counterparts.
Ben Wu, special advisor to Maryland Governor Larry Hogan, Maryland Engineering's Dean Samuel Graham, Jr., and Shuzaburo Takeda, special advisor to the University of Tsukuba and Nagoya University, welcomed participants to the event, which was being held for the first time since the COVID-19 pandemic. It also marked the first time that UMD has hosted this international workshop. Also Koji Aribayashi, Chief of Science section, Embassy of Japan welcomed the participants on behalf of the Japanese Ambassador.
"We are in a strong position to advance collaboration across several cutting-edge fields," said UMD Civil and Environmental Engineering Chair Nii Attoh-Okine. "We are acknowledged leaders in the use of location-based data for objectives that range from managing public health crises to improving transit networks. We're also building up our capabilities in the area of railroad cybersecurity, a key component of critical infrastructure. In addition, UMD engineering is a leading hub for quantum-related research."
The department plans to initiate a joint exchange program with selected Japanese universities, Attoh-Okine added.
Presentations by UMD faculty underscored the university's capabilities. Assistant Professor Avik Dutt, a quantum computing and photonics expert, provided an overview of UMD resources such as the Joint Quantum Institute, the Maryland Nanocenter, the Joint Center for Quantum Information and Computer Science, and the newly-launched FearLess Optics, Quantum Engineering & Technology (FLoQuET) Lab.
Other speakers from Maryland Engineering included Attoh-Okine, who discussed digital and cyber railway systems; Clark Distinguished Chair and Center for Disaster Resilience director Deb Niemeier, who spoke about engineering's role in addressing climate-related and other risks, and Eric D. Wachsman, director of the Maryland Energy Innovation Institute, which explores clean energy solutions that can help achieve the goal of carbon neutrality, Victor Albert UMD Physics department.
Representatives of Japanese universities who spoke at the event included Kazuya Takeda (Vice President, Nagoya University), Tomohisa Koyama (Executive Director, Nagoya University), Tetsuro Morishita (Sophia University), Shuzaburo Takeda (President, Takeda and Associates), Masahiro Yamaguchi (Vice President, Tohoku University), Hiroaki Kobayashi (Special Advisor to the President of Tohoku University), Kyosuke Nagata (President, University of Tsukuba), Yasunoro Caroline Fern Benton (Vice President, University of Tsukuba University), Tsukuba University), and Tetsuya Sakurai (Director of Center for Artificial Intelligence Research, University of Tsukuba).
Presentations at the event were also delivered by Jay M. Cohen, former U.S. Under Secretary of Homeland Security for Science and Technology, who discussed the larger geopolitical and strategic contexts of Japan-U.S. research collaboration; by the executive director of the Japan External Trade Organization in New York, Hideyuki Takahashi; and by the director of the Japan Science and Technology Agency, Kazuyoshi Shimada. The following participants also presented: Toru Furuya, CEO and President, Shimizu America Inc; Tatsuya Osawa, Deputy General Manager Nippon Telegraph and Telephone Washington representative Director and Executive Director Ryota Hiramato and Hideyuki Takahashi of Japan External Trade Organization and Kita Shimpei, Manager Fujitsu-Washingon, DC.
Published November 14, 2022