Gerasopoulos Wins Best Poster Award at Micro/Nano Alliance Symposium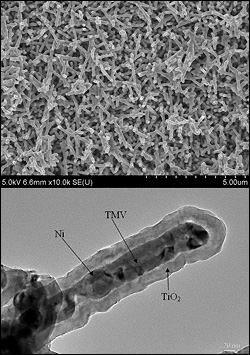 Department of Materials Science and Engineering (MSE) graduate student Konstantinos Gerasopoulos, advised by Herbert Rabin Professor
Reza Ghodssi
(Electrical and Computer Engineering and Director, Institute for Systems Research), won the Best Poster Award and a cash prize of $1000 at the
Mid Atlantic Micro/Nano Alliance Symposium
, held at the Johns Hopkins University Applied Physics Laboratory in October 2010. His entry was overwhelmingly selected for the honor from a field of over two dozen competitors.
The annual Micro/Nano Alliance Symposium attracts participants from the large regional microelectromechanical systems (MEMS) and nanotechnology communities in academia, industry and national labs.
Gerasopoulos' poster, "Nanostructured materials and fabrication processes for advanced nanomanufacturing using biological scaffolds," presented an overview of his dissertation research, which focuses on the development of microfabricated energy storage devices using biological templates. The project, part of a cross-disciplinary collaboration between Ghodssi, Professor James Culver (Plant Sciences and Landscape Architecture), and Assistant Professor Chunsheng Wang (Department of Chemical and Biomolecular Engineering), uses the tobacco mosaic virus (TMV) as a template for the synthesis of nanostructured battery materials such as anodes. These materials can be combined with standard microfabrication processes, resulting in the creation of tiny batteries with increased energy and power density. Compared to other nanofabrication techniques, the TMV templating is simpler, far less expensive, sustainable, and easily scaled. The components Gerasopoulos and his team have created are generally lighter and more durable than their commercial counterparts.
"Our work presents an interesting approach that bridges the worlds of biology and nanotechnology through the combination of bottom up self-assembly and top-down micromachining techniques," he explains.
Over the past year and a half, the research has garnered attention and praise from the MEMS community, and was also featured on Discovery News and Nanowerk, the most popular nanotechnology industry news web site. Since 2008, Gerasopoulos has been the first author of three papers on TMV templating and in March 2010 was an invited speaker in the Massachusetts Institute of Technology's Micro/Nano Seminar Series.
Gerasopoulos, who is currently in his final year of Ph.D. study, conducts his research in Ghodssi's MEMS Sensors and Actuators Laboratory (MSAL). He is a member of the IEEE, MRS and AVS, and was selected to join the 2010 cohort of the Clark School's Future Faculty Program. He received his M.S. in electrical engineering from the Clark School in 2008.
For More Information:
Published November 2, 2010